EQUINOX PRESENTATION AT BIKE BRNO INTERNATIONAL CYCLING SHOW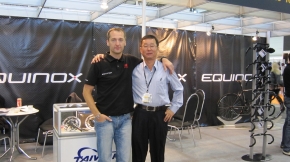 10. October 2010
Equinox introduces its product portfolio at Bike Brno cycling fair.
Equinox presented its product portfolio during international bike fair in Brno. The complete product range and hot novelties 2011 were introduced to both local and foreign visotors.
On the picture : Mr. Steve Lee – CEO from Equinox Taiwan and Mr. Milan Simek – chief of European office.